Features of Nitro Custom Hearing Aids
The following table explains the many features offered by Siemens Nitro® ITE hearing aids. These are available in the following four models:
ITE = In-the-ear
ITC = In-the-canal
CIC = Completely-in-the-canal
HS = Half shell*
* Available in United States only. Options for ITC and HS are the same.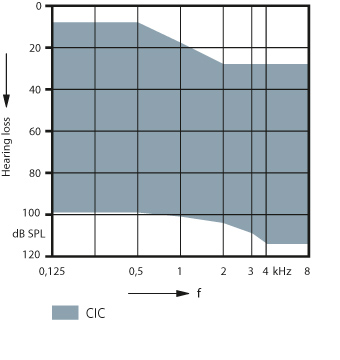 Performance Level
7 mi
3 mi
Hearing loss degree
Matrix (2 ccm)
71/131 dB
71/131 dB
General
Frequency channels / Compression controls
48/20
24/12
Hearing programs
6
6
Better hearing
Frequency compression
Sound Quality
micon eWindScreen™
Extended bandwidth
SoundBrilliance™
micon SoundBrilliance™
micon feedback cancellation
micon speech and noise management
micon SoundSmoothing™
micon compression
Fitting / Individuality
Sound equalizer / no. of classes
6
1
micon learning
SoundLearning™ 2.0
Acclimatization manager
micon fit
Style specific features
Battery size
10
10
Battery door on/off function
e2e wireless™ 2.0
Instrument configurations
Push button
Volume control

3

3

Audio input

4

4

Programming accessories
ConnexxLink™
Programming adapter
Flex connector
Flex connector
Accessories
miniTek™
Transmitter
Tek™
ePen™
ProPocket™
Apps
miniTek™ Remote App
Colors
Brown
Mocha
3 via remote control
4 with miniTek
7 max. values